Latest Technology
Ellipse Intramedullary Limb Lengthening System
Click on the images below for enlarge view.
FITBONE®
Limb lengthening with a fully implantable, computer controlled distraction device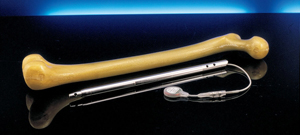 FITBONE® is an innovative concept using the method of Ilizarov (callus distraction) but avoiding any external fixation:
The system is fully implanatble
Has a small risk of infection
Is a multiple correction tool
Is a guarantee for axial alignment
Offers high comfort during treatment
Has a good cosmetic outcome
Click here to know more about FITBONE
FITBONE (fully integrated telescopic bone) nail is a distraction device powered by an internal engine which is activated by a hand held remote. The remote activates distraction by sending messages to the receiver implanted below the skin.

The FITBONE does not allow full weight bearing; therefore patients are required to use a wheelchair during the entire lengthening phase.
FITBONE allows for a 5 cm. (2 inch) gain in one bone segment.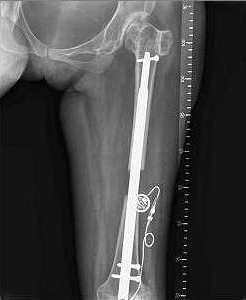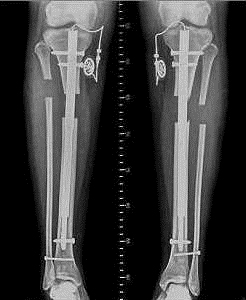 X-ray of lower legs(Tibia) and upper legs(Femur) with the Fitbone nail.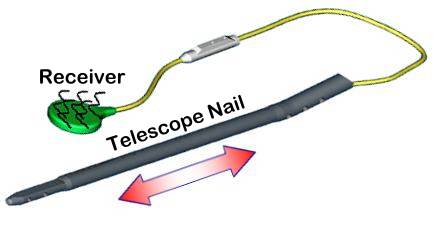 The Fitbone System, is similar in function to a telescopic car antenna.
The nail consisting of 2 parts is powered by a minute engine gear device which draws the telescope apart by applying force of up to 200 kg, during which the extension is externally steered via electronic impulses. The Fitbone nail elongation is propelled by a highly sensitive epicyclic gear which has been manufactured by Wittenstein Intens, a company specialising in high precision gearing.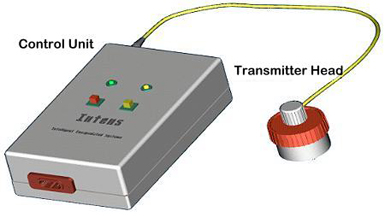 Both implants are inserted through one single small entrance simultaneously elongating the thigh and lower leg.